Ask Nicki
Do you do custom painted items?
I do and I am happy to talk with you about your ideas for a custom piece. I can customize one of my existing products to suit your needs or i can create an item or design especially for you. May favorite piece like this so far is a custom design shoe/storage bench for an awkward sized hallway with no storage space. The client chose my "Trees" design for the decoration. I shipped another of this item to Texas!

Please email me and we can talk about what you are looking for.

Do you design or paint rooms and walls? Where?
Yes, lots! Mostly in and around New York City.

How does that work?
I can create a personalized paint finish or a custom design for your wall or room. This involves a free consultation and site visit. Then i will design and present several concepts for you to select from. This service is priced according to the size of the project and what is involved. A design for one wall costs less than a complete room design, but each and every situation is different. Once we have worked together to finalize the design and colors I'll come paint!

That sounds like interior design ~ are you an interior designer?
Not officially! My clients like me to "do" their rooms for them. It all started with a friend asking me to consult with on her new paint colors for her kitchen. She was thrilled with the result and we went on to "do" a redesign for her her daughter's bedroom and their living/home office space.
Do you design the complete room?
Yes. My clients trust my taste and judgement. Organization is always a part of these projects and I love it!

Not so long ago I worked on a bedroom re-design. We did a lot. New carpeting, window treatments, installed a ceiling light, hand painted custom designed walls, new bedding, re-upholstered chairs and custom designed a 7ft mirror. The reorganization played a big part in the project. I found spots to hide electronics, reworked a desk and storage space and transformed the room from cluttered and chaotic to tranquil, soothing and orderly.
Is every Bespoke product the same as the photo?
Every single item is the same, yes. If you select, for example, the trees desk organizer, it will be exactly that item you see in the photos in the shop. For the painting I always use exactly the same colors as you see in the photographs and replicate each design as close to the photographs as possible. Because of the organic nature of hand painting there will be slight variations in the brush strokes and layouts. This is the art and beauty of purchasing a Bespoke Painting piece and what makes each piece unique.
How long until i receive my item?
Usually 1-2 weeks. Everything is painted to order and i carry stock of the unpainted products. However, sometimes I sell out and have to reorder. This can add an extra week or two onto your delivery time while my carpenter works quickly to fulfill my order. If you need your item urgently please contact me and I will do my absolute best to accommodate you.
How do you ship?
UPS Ground, unless you need your item super-quick. Please email me and I will be happy to ship express to you. The buyer is always responsible for shipping and handling charges.
Do you accept returns?
Every piece is painted to order and so i cannot accept returns at this time. I stand behind all of my products and in the unlikely event that an item is defective then I will replace it. Please be aware that you should only ever clean your Bespoke piece with a slightly damp cloth. Never ever use any cleaning products, bleach or dish soap and never immerse your piece in water or put it in the dishwasher. Items damaged by incorrect cleaning methods cannot be replaced.
What if I see an item I like but not in a design that I like?
I am happy to paint any of my designs on any of my products. Please contact me and we can discuss what you would like.
Do you sell gift cards?
Coming very soon!
Where else can I buy your products?
Right now Bespoke products are only available in the online shop and at the studio. If you are in NYC and would like to visit the studio to shop please email to arrange an appointment. Also I hold seasonal sales at the studio. If you would like to be notified of these sales please like my Facebook page and you will receive an invitation to the next sale.
Do you gift wrap?
Yes, as long as size permits! Every item i ship is packaged with lots of tissue paper and satiny ribbons in the Bespoke colors of dark brown, mushroom, teal and magenta. Toy chests, coat trees and the like are a little tricky, but will still be beautifully presented.
Can you upcycle my piece of furniture?
The first step is for me to take a look and see the shape that your piece is in. That can be done with lots of detailed photographs. The second consideration is whether you can get your piece to the Bespoke studio in New York City. Also, bear in mind that you will need to pick up your finished piece or cover the costs of shipping. Please call or email and we can discuss your piece.
When and how do you launch new designs and products?
New products are always being added to the line and always launched in the online shop, on Facebook, Pinterest and the Bespoke blog. If you "like" Nicki Piercy Coddington Bespoke Painting on Facebook you will never miss a new product or design launch!
Do you sell wholesale?
We're working on it! If you are interested please contact Nicki.
Who are your customers?
The same people as me! Busy, working mums! Each and every day I hear the same thing: "Ugh, my kids rooms are always SO messy, and I don't know what to do, it drives me crazy" or "I have to buy a gift for my co-worker's new baby/my sister's new home/my nephew's graduation and don't have the time to go shopping"...If this is you too, then Bespoke is the perfect place for you!
What style would you say your work is?
This is a subject that I can debate for hours! I don't believe my design style can be categorized, and I am not a fan of pigeon-holing either my work and myself, or others and their work. I can, however, describe the style of my work!
Firstly, when I am commissioned by a client to design a room or wall I meet with them at the space. We discus their taste, their lifestyle, their needs, what they love, loathe and we discuss the space. I listen more than I talk, and I look at everything around me, to assess what is going on with the space. I have a photographic memory for color and this is incredibly useful when designing rooms and walls. My designs are a collaboration between client and artist. I interpret my client's needs with my creativity and experience, and then infuse the designs with my ideas and taste.
The ready-to-buy items in my shop have an eclectic feel about them and this is varied. I love minimal and spare (see Trees design) and I love using color in funky and new ways (see Neon Wavy design). I have global influences (see Taj) and I have influences from the world of art (see Jupiter and Surreal).

My hope is that I am creating my own style for the enjoyment of other. IT would be lovely one day if I were to overhear someone say "oh yes, it's by Nicki at Bespoke" and those words alone could describe my style!


If you have enjoyed reading Ask Nicki you can read more of my daily thoughts at the Bespoke Blog.

If you need an answer immediately please email me at info@bespokepainting.com
Thanks!
Nicki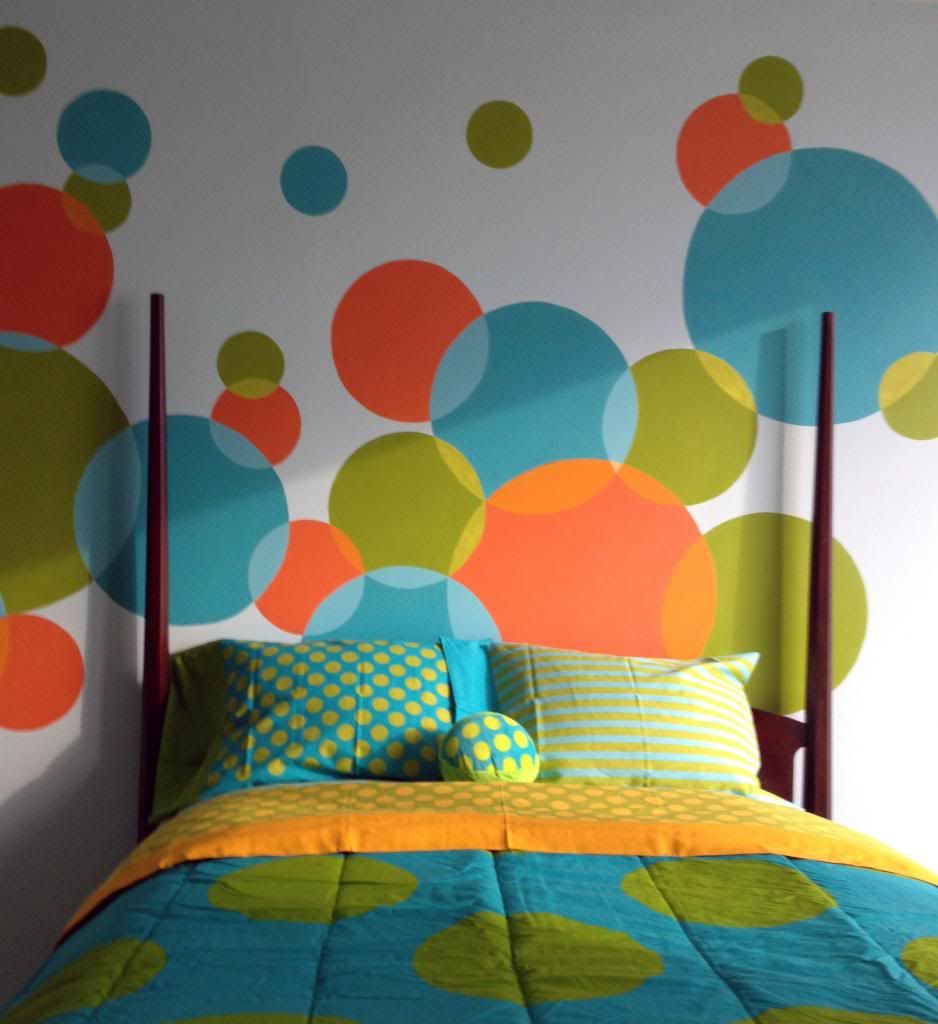 Mod Circles: A custom designed bedroom for a ten year old.
Silver Leaf: Custom paint finish for a NYC living room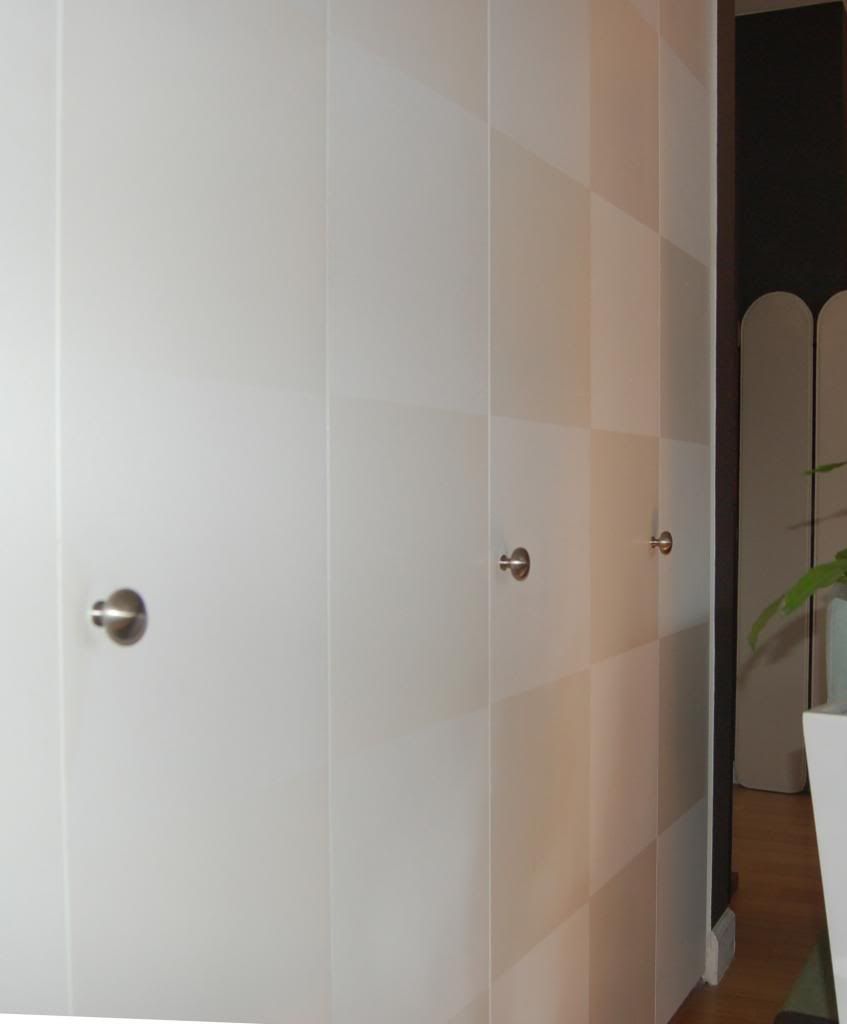 Cubism: Custom design matte/gloss closet doors for a NYC living room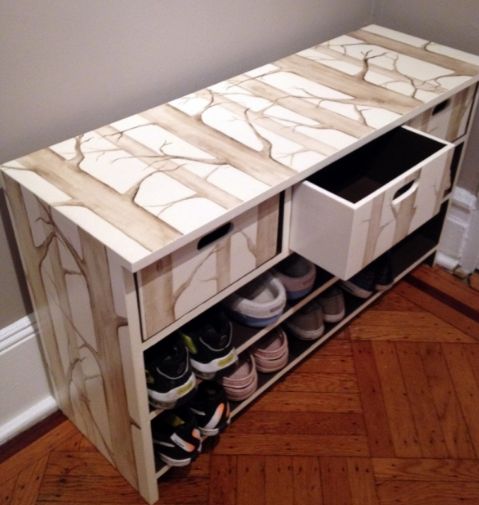 Trees Shoe Bench and Storage Cubbies: Custom designed piece for a NYC entryway